Our Members
The RMHP Running Club welcomes runners of all ages and abilities. Members range from preteens to octogenarians, and from casual runners looking for a fun fitness group to elite sprinters, distance runners, and triathletes. A few are nationally competitive within their age groups; most compete only with themselves.
Over the years we have grown from a small, dedicated group to more than 300 runners. Members work together both to reach their full potential and to help the community by raising awareness and funds for the Ronald McDonald House of Providence.
Bob and Anne Rothenberg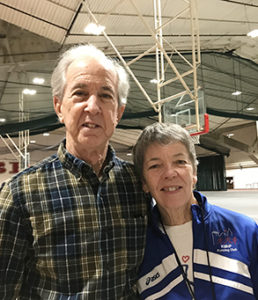 Bob and Anne Rothenberg helped to initiate the RMHP Running Club in 2007 while volunteering at the Ronald McDonald House of Providence. The duo began coaching together in 1971 while teaching in Maryland. Their high school teams amassed 18 state championship titles in cross country and track & field.
Bob became the director of cross country/track & field at Brown University in 1983, and Anne was the named the men's and women's jumps coach. Over their 20 years at Brown, their squads won 11 league championships and 4 New England titles, and Bob was named NCAA Regional Coach of the Year five times. Both Anne and Bob are members of the Brown University Athletic Hall of Fame. Together, Bob and Anne continue to direct a major high school cross-country invitational and officiate at high school and collegiate meets in RI and NY. Bob also coaches with NE Distance.
Jon Barnes
Jon has been a coach with the RMHP Running Club for seven years. A runner since age 14, Jon competed both in high school (at Branford High School in Connecticut) and in college (at Lafayette College). He is a member of the Hall of Fame at both Branford and Lafayette, and he was a college All-American in the indoor 1000.
A former self-coached marathoner, Jon ran a personal best at the Boston Marathon with a sub-2:29 time. Over the past 40 years, he has mentored many marathoners of all abilities. Jon retired from a banking career specializing in business lending in early 2009 and continues to serve as a volunteer coach for female distance runners at Barrington High School, which he has done for nearly a decade.
Peter Sedgwick
Peter Sedgwick started running in high school and returned to the sport at age 46 after a long hiatus. He joined the club a year later, running in everything from 5K races to a full marathon. He started to help with coaching in 2016 after an injury and two surgeries, which gave him insight into the importance of cross-training and downtime for maintaining running health. With this knowledge, he helps club members avoid the mistakes of over-running or running through injuries.
Peter also serves on the club's executive committee. His broad experience with the club—as a runner, committee member, and coach—lets him say with confidence that it is the best running club in the area, hands down. He is proud to serve with the committed people who volunteer their time and talent to making it special.
Michael Fadil
Michael joined the RMHP Running Club as a coach in 2020. He started running at age 14 competing in high school (Liverpool High School in New York) and later at Dartmouth College where he was an All-American. He continued running post-collegiately, competing nationally and internationally, representing the U.S.A. on numerous national teams, and competed in the 3,000-meter steeplechase at the 1988 U.S. Olympic Trials.
Michael also helps coach the Rhode Island Track Club runners as well as coach outdoor track and cross-country for the youth team Cranston League for Cranston's Future (CLCF) where his daughter Zia competes. He still enjoys running recreationally and is counting down the years while he can still stay ahead of his daughter.
Performance Physical Therapy has evolved its name to Highbar.  All the same friendly faces with a just a new name and look. This month's coaches advice from Highbar is how to add variety to your squats to up your running game and keep you healthy and moving forward....
Member profiles and stories
by Michaeline Nelson Jan Parillo and Preston Hare are regulars at the track on Monday and Thursday morning practices before going to work. Together they own a company, Parillo/Hare Realtors, working across the state of Rhode Island. Jan says she is a people person and...
I ran the Jerusalem marathon on Friday, March 21st, my 30th marathon. I lived in Jerusalem for a summer when I was 8 years old, I attended University in Jerusalem in the early 70's and I volunteered on a Kibbutz between college and graduate school. Jerusalem has...
by Michaeline Nelson Patricia Sullivan started running on August 17, 2008. She had always been athletic. In her youth Patricia raced on the track until 8th grade, but her high school years were pre-Title Nine, when she says, "Women had to play half-court basketball...
by Peter Sedgwick I am writing this open letter to discuss what I have been doing this year to improve my running times and abilities. First off so you all understand until this year I had not broken my PR from my first half marathon run in Hartford in October of 2008...
Read the story here: Jeff Howley at Julia's Race, from the Attleboro Sun Chronicle
by Ellen Foley. I ran the 100 on 100 relay with five friends last Saturday (Aug 13th). Here's the website: http://www.100on100.org/. We came in 6th of 12 women's teams (we were something like 89th overall however). This is a great race that starts at the stunning Von...